In a truly inspiring display of fashion grace and elegance, Stephan Caras wrapped up his European tour for the Fall/Winter 2012-13 season by showing his collections in Larnaca, Cyprus for the Cyprus Fashion Days event on that took place on Wednesday, April 25, 2012.  The heat of the sun and the breezy shores of Cyprus set a perfect stage as Stephan lit up the catwalk with beautifully tailored gowns and playful outfits that were flirty, feminine, and sensual.  Stephan's artistic expression was captured as he presented a collection that was filled with opulence, grace, playfulness and lightness.  Stephan who was recently listed as the "Top 20 designers of the World" and "Top 25 most beloved and inspiring fashion designers of the World", by CEO World Magazine and Runway Magazine, created a buzz in the air as audiences came from all corners of this beautiful island to take in a night of fashion, art, and style.
The colours were seemingly Baroque inspired dominated by fire red, gold, black and midnight forest green that were both bold and vivid.  Rich textured fabrics such as wool plaid, wool jacquard, faux fur, gold lame jacquard, silk taffeta, silk chiffon, silk velvet jacquard, and fluid jersey, all came together in a way that can only be described as lush.  Embroidered velvet motifs embellished with warm and rich jewel tone Swarovski stones, twisted gold and black satin braid, peacock feathers, and sweet coral/tangerine fur elegantly finished each garment and defined each piece in a way that we have only come to expect from Stephan Caras. Each piece captured Stephan's vision of creating pieces that are feminine, wearable and sensual through a well-balanced mix of fabric, color, texture and detailing.
The party did not stop there as esteemed guests, models, friends, and the media headed over to Ammos Beach Lounge to continue the festivities by schmoozing the night away under the moon lit sky at Stephan's after party.
The press was on hand as MTV Cyprus and NRG TV caught up with Stephan during the event to ask Stephan how he felt about the event and his inspiration behind the elegant pieces that he designs.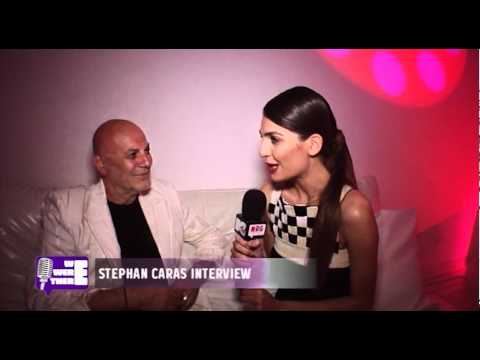 Stephan's inspiring European tour stirred up interest internationally as both CEO World Magazine and Spanish publication, ARDE Magazine, were on hand to cover this amazing event.
Article:  CEOWORLD Magazine – "Designer Stephan Caras at Cyprus Fashion Days (Larnaca)"
Staying true to his philosophy of design in expressing a woman's individuality through femininity and sensuality, it only seems fitting that Stephan concluded his editorial campaign by shooting on location at the mythological stone in which Aphrodite was born.  According to legend, the goddess of love, beauty, and femininity rose from the sea at this exact point and a goddess was born.  In a tribute to these ideals, Stephan's creative prowess shows us that they are alive and well.
Photography:  Charis Evagorou